Know the Difference Between a


Virtual Private BROWSER
vs.
A Virtual Private NETWORK VPN
Only ONE gives COMPLETE Online Privacy & Security
News | Back to all news |
Know The Difference Between a Virtual Private Browser Vs A Virtual Private Network VPN.
The virtual private NETWORK was invented in days of dial-up as a way to send encrypted data over the Net to TRUSTED parties.
The virtual private BROWSER is new, and was designed so that a computer could browse the Web without being identified, tracked or infected. 
With a virtual private NETWORK your browser and device CAN BE seen and touched while browsing. Only the data you send is private.
With a virtual private BROWSER your device CAN NEVER BE SEEN OR TOUCHED while browsing. You are completely anonymous online.
Virtual Private NETWORK:
PROS:
You can use any browser with your bookmarks/favorites
You can surf with a different IP address
Your data is protected over the Net (public WiFi)
CONS:
Websites can identify, track and infect your device
Big Tech can monitor your browsing
Browsing history and evidence is still on your device
VPN provider can sell/share your data
Speed is slow due to encryption
Virtual Private BROWSER:
PROS:
Always VIRUS FREE browsing
Websites can never identify you, your device, or your true location
Google, Big Tech and the gov't cannot identify you WHILE browsing
There is no browsing evidence of ANY kind on your device
Your data is NEVER sold or shared
Blazing fast
CONS:
You cannot upload or download any content
No bookmarks or favorites
Only runs on Windows OS
 Don't make the mistake of thinking your device is safe and you are private when using a VPN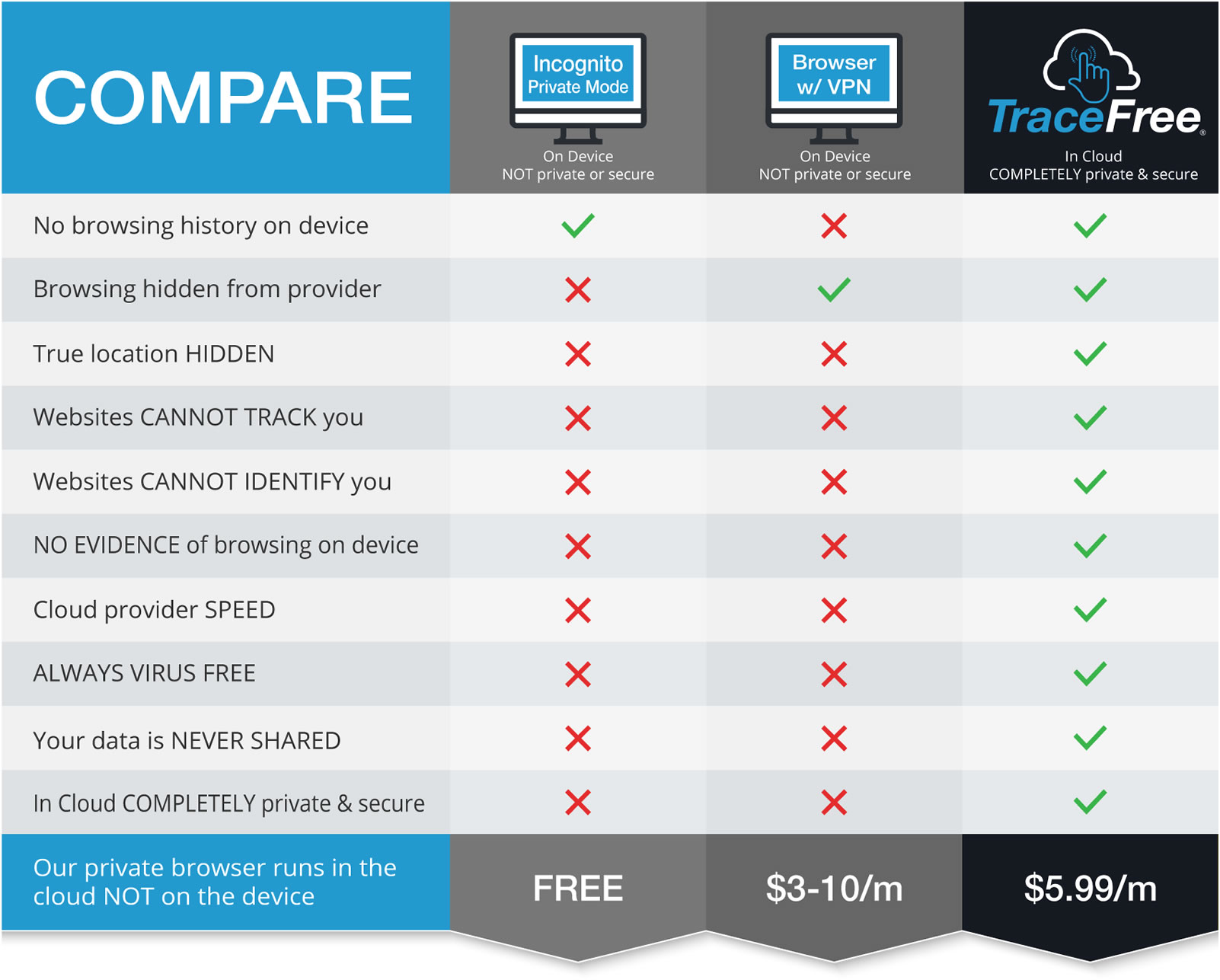 The Safest Way To Browse The Web
"Always Safe Always Private Browsing"